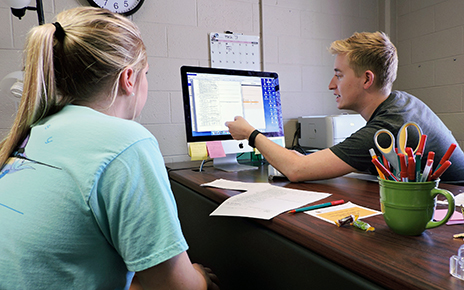 In 2007, two students graduated with the Multicultural Certificate. Last spring 1,068 students earned the certificate. The growth of the certificate has come under the watch of psychological sciences professor Etti Naveh-Benjamin, who began directing Mizzou's Multicultural Certificate Program 10 years ago.
The Multicultural Certificate Program is now the largest certificate program at MU. Naveh-Benjamin believes it is so popular because it helps students familiarize themselves with multicultural and diversity issues that are important for people living and working in an increasingly globalized world to understand.
"Having a Multicultural Certificate is an asset that will allow you to become acquainted with different people, points of view and ways of thinking," Naveh-Benjamin says. "It will give you an edge when you graduate and are working with many different people from many different backgrounds."
The Multicultural Certificate Office recently moved and is now housed in the Student Success Center.
MU's College of Arts and Science offers the certificate to all undergraduate students. To earn the Multicultural Certificate, students must complete a coherent program of 15 credit hours from a list of hundreds of approved courses. The courses allow students to critically examine and evaluate issues involving race, ethnicity, gender identity, sexual orientation, religion, social justice and class inequality in the United States and globally. Coursework from a student's major, minor or general education requirements can all count toward the certificate.
"Getting the Multicultural Certificate is an excellent way students can immerse themselves in classes, experiences and situations that will bring all these issues to light and make them active participants and learners," Naveh-Benjamin says.
To apply for the Multicultural Certificate, Naveh-Benjamin recommends that students look through the list of approved courses and pick the ones that interest them most. She also suggests that students go to the Multicultural Certificate Office to plan their courses of study with one the program's 10 peer advisers who help students understand the certificate requirements and finalize the application process.
"One of the beauties of the program is that it's completely peer-advised," Naveh-Benjamin says. "When you go to the office and apply for the certificate, you don't have an administrator talking to you, but a fellow student who can relate to you and talk to you face-to-face about a common experience."
While peer advisers help students with the application process, Multicultural Certificate Ambassadors visit classes to inform students about the certificate. By giving more than 200 presentations every semester, the ambassadors help raise awareness about the program.
Senior Salah Daghlas, a Multicultural Certificate ambassador and biochemistry major, believes it is important to spread the word about the program to other students.
"Having a multicultural education is important in exposing us to other perspectives that we may be unaware of," Daghlas says. "The lack of understanding of others is certainly a main contributor to conflict these days, so programs like the Multicultural Certificate are critical in providing an avenue for students to learn about others."
James Dolezal, a senior studying anthropology and English, enjoys being an ambassador because he believes the certificate will give students an advantage when applying for graduate school and jobs.
"Our program is a great way to help prepare students for leaving Mizzou," Dolezal says. "The resume-building element is one component, but more importantly, we are helping students as they enter a diverse and global workforce. Coming to college is meant to be a period of growth and new experience, and the Multicultural Certificate encourages students to take the opportunity to learn about other people."
Senior Katherine Pope, a political science major, learned about the Multicultural Certificate last semester when ambassadors gave a presentation to one of her political science classes. As soon as class ended, she decided to apply for the certificate.
"As a senior approaching the real world, I think adding anything to my resume is always a positive," Pope says. "I believe it will benefit me by showing future employers and graduate school admissions committees that I have taken a plethora of classes that address the subject of diversity."
According to Naveh-Benjamin, many people like Pope understand the value of a multicultural education. More than 4,500 MU students have graduated with the Multicultural Certificate since the program began, and she believes that number will continue to grow.
"Today, people know you can't shove topics about diversity under the carpet," Naveh-Benjamin says. "These are topics people need to be educated about because the world is diverse, people are diverse, and diversity is part of our experience in the workforce and in schools."